We are probably all aware of the truism that "culture eats strategy for breakfast" in this newsletter we will discuss culture in the context of creating a great IT Strategy.
Why do we care about culture when we are developing an IT Strategy? The truism is only partly correct, whilst culture might eat strategy for breakfast, ingesting a strategy will necessarily change the metabolism of the culture, because:
Culture is not a constant, it is also in reality not abstract, it is manifested and repeatedly re-manifested every day within an organisation through the stories, language, processes and structures of the organisation
In order to deliver your strategy you may need to change your IT Culture, so you need to understand what it is and where you need it to be
Similarly, in order to deliver your strategy you may need to impact the wider company culture
There is a whole load of business and academic books and papers that provide different ways of analysing and viewing culture, this newsletter won't be a discussion of them. The way I think about the culture in the context of creating an IT strategy is that in reality within an organisation culture is composite, different business units, locations and teams often have unique cultures that might have shared attributes.
However our focus is thinking enough about culture to a) inform the IT Strategy and b) ensure its successful execution therefore we should focus on quickly answering Two important questions:
1) What is the current culture of the IT team?
2) What is the general culture of the organisation?
The Johnson and Scoles "Culture Web" is a useful technique to describe both the current and target culture of the IT team, it looks like this: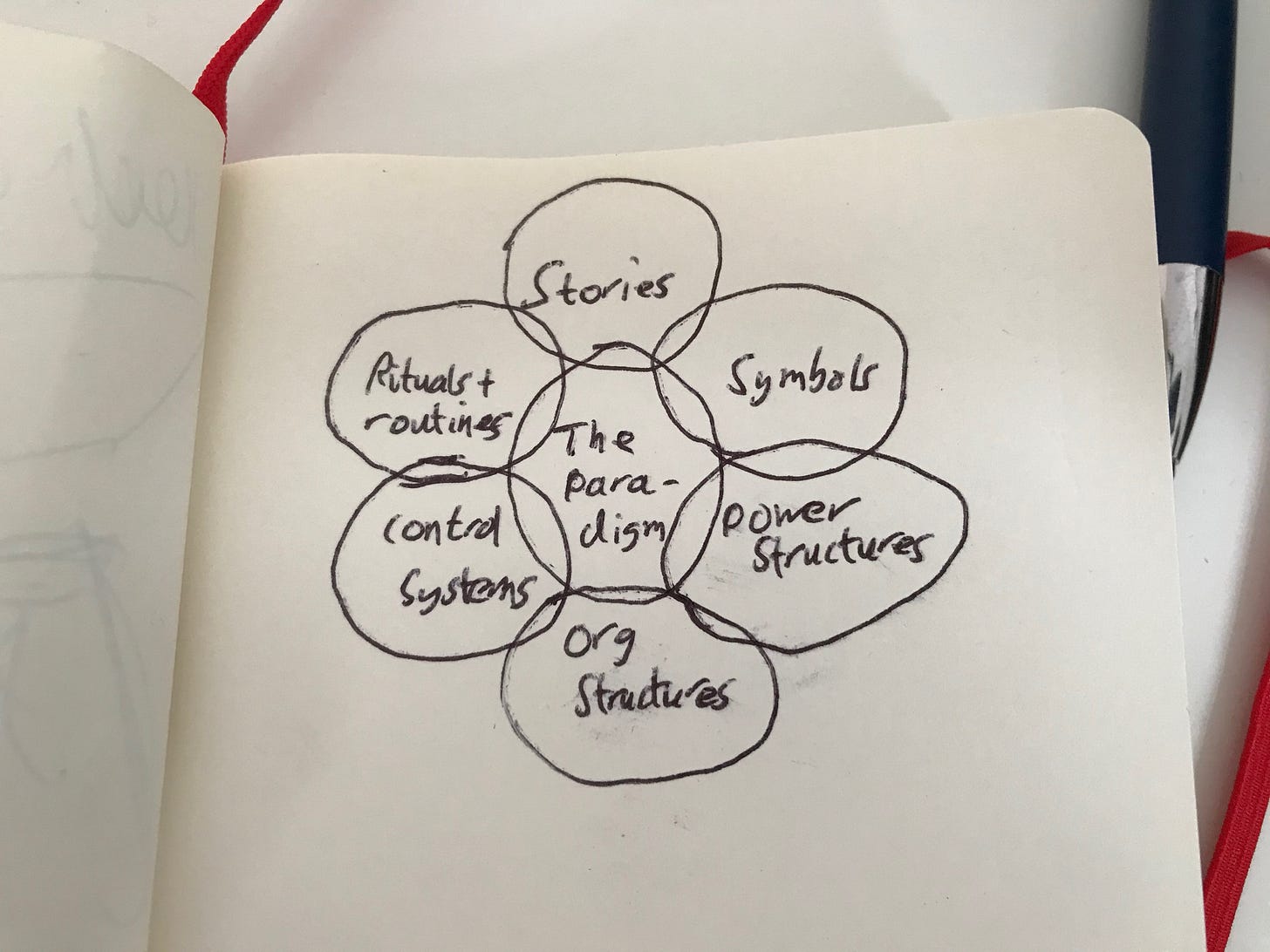 Using the Culture Web as a structure to frame your thinking around culture, you can then follow these 5 simple steps:
Use the Culture Web as a heading structure to list out the Current IT culture
Use the culture web as a heading structure to list out the Target IT culture
Identify actions required to close the gap between where you want the culture to be and where it currently is and ensure your strategy addresses these gaps, or your strategy will likely fail
Use the Culture Web for a 3rd time as a heading structure to list out the general company culture (that your strategy will need to be implemented in)
Review your strategy and the company culture you've just defined and identify the potential issues that the current company culture will pose when you try and implement your strategy
There are various ways that you can approach these 5 steps, in my view you don't need to overcook it, with an open and honest mindset and a couple of colleagues to bounce off you could probably crack through these 5 steps in an afternoon and identify some great insight into your team and company culture that will both inform your IT Strategy and improve the chances of its successful implementation.
Course
If you want to learn more about how to create a great IT Strategy then please do sign up at howtoitstrategy.com for early access to the upcoming How to IT Strategy course.
Podcast
Don't forget if listening is more your thing you can listen to the How to IT Strategy podcast on Anchor , Spotify and all major Podcast platforms.
Subscribe
If you found this newsletter interesting please do subscribe so you don't miss out on the next instalments.